boxouse is closed.
I'm sad to share that Boxouse is out of business. It was an adventure with quite a bit of literal blood, sweat, and tears. Hopefully you can learn from our open source CA legal shipping container home plans (released CC BY-SA 4.0) and make slightly better mistakes in your own housing innovation adventures:)
What Happened, Short Version
We made spaces people wanted to rent but not buy, and we didn't raise enough money to purchase locations for new rental units ourselves. Even with beneficial changes to CA laws for backyard houses, permitting makes it double the cost and 10x the time for us to build a fully-legal boxouse: guesstimate 20-40k and 6-18 months just for the permit fees, utility hookups, processing time, etc. We figured out a way to get boxouses legal at the state level as Factory Built Housing, but by the time I finished this process I was pretty much out of money and motivation. We never did go through a full permitting process for an install with our state approval or otherwise; I think but am not sure that the state approval would reduce cost and time by 10-50%.
While boxouse as in shipping container homes for sale didn't work financially, I'm excited to see other experiments with small private spaces and shared communal spaces. There are real businesses to be built here that are better for people and the planet than our private apartment status quo.
Longer Story, With Financials
Heather and I started boxouse as a business after realizing we were far from the only ones who wanted affordable, small housing in a shared environment where we could build things. Our friend Kirsten made a flattering video of our first Bay Area container space (I'd previously built one container home as basically a spare room in the back of my home in Austin):

We rented the quarter-acre space for $1k per month, later expanding to the whole half-acre triangle at $2,000 a month. At its peak, we made ~twice our cost in rent from charging friends to park/place their weird small homes on-site. A hoarder tenant abandoned a ton of stuff there; the fee to dispose of it ate up a lot of the profit. But, we had a move-out party there with enough flames that the fire department showed up twice in one night!. And, the city complained about us in emails I received via Sunshine Act requests (batch1, batch2). Here's my favorite part: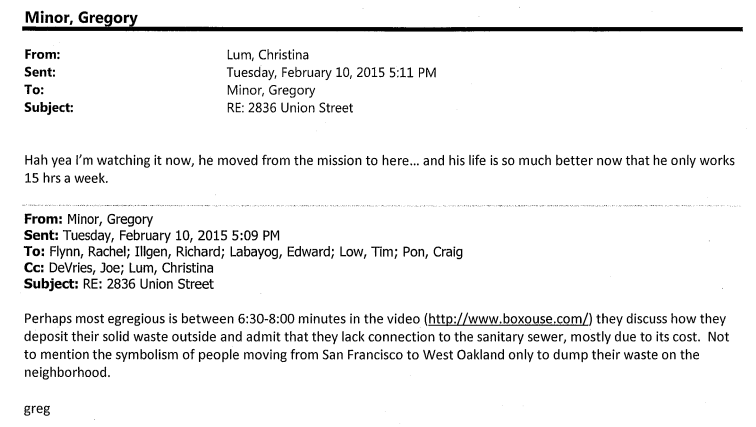 Now, the triangle is a 2-story dog day care center. Karmic revenge on the neighbor who threatened to shoot our dogs, and a nice symbol of gentrification:)
We bought 3 .1-acre parcels with some friends (+ a large loan), and for a few magic months we had a dream tiny home utopia. Building, living, covering our costs, growing some plants, and chickens!
And, angry neighbors. One even started a petition against us: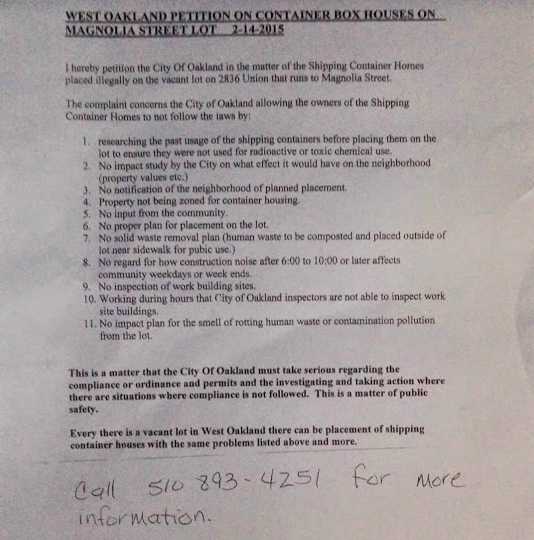 (the rotting waste was not human waste: it was fish emulsion a partner was using to try and bind to any lead in the soil)
We relocated our production to a nearby warehouse, focusing more on the art space side of things:
At its peak, this made ~6k above its cost monthly and provided free space for us to build our boxouses.
People were happy to rent our airbnb on the street for around $40 per night: